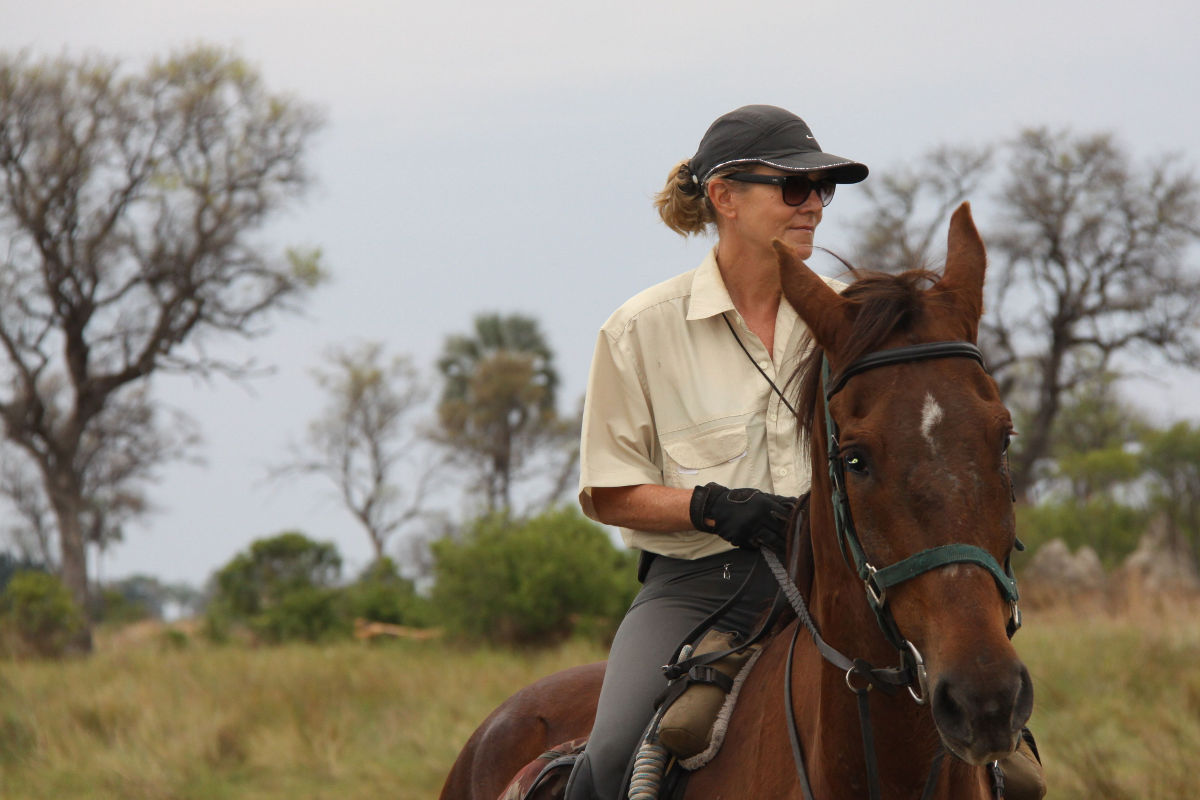 Barney
OWNER, PROFESSIONAL GUIDE.
Her love of horses originated during her childhood years where as early as age eleven she jockeyed the Arabian horses of the Arab Shiek, Bin Suman Al Kanifa, in the flat races staged in the deserts of Bahrain. This was the foundation for Barney's extensive equine knowledge as well as outstanding riding ability. Barney learned to ride in Kenya and formally trained with the British Horse Society in England. She has competed Internationally including the race of champions in the United States. After accumulating a wealth of equine veterinary knowledge, she now provides the majority of the veterinary care required as well as all the farrier work. A combination of Barney's love of horses and wildlife inspired Okavango Horse Safaris. Her thirty plus years of riding through the bush in Botswana, has earned her an extensive knowledge of the area through which she guides each safari. Barney is not only involved in the development of the horses but also with staff training and is now a BOTA assessor.
PJ

OWNER, PROFESSIONAL GUIDE.
Born and brought up in Namibia, PJ studied geology and spent his early years researching mineral deposits in Botswana. These years fostered his love for the Okavango Delta, which inspired his emigration to Botswana in 1970. PJ is a Motswana Citizen, and over the last 40 years he has acquired extensive knowledge of the flora and fauna of the Delta region and his bush craft skills are highly respected in Southern Africa. Never happier than with fishing rod in hand, PJ is also an accomplished bush pilot. PJ has been highly involved with the development of camps and staff and is now a registered BOTA assessor.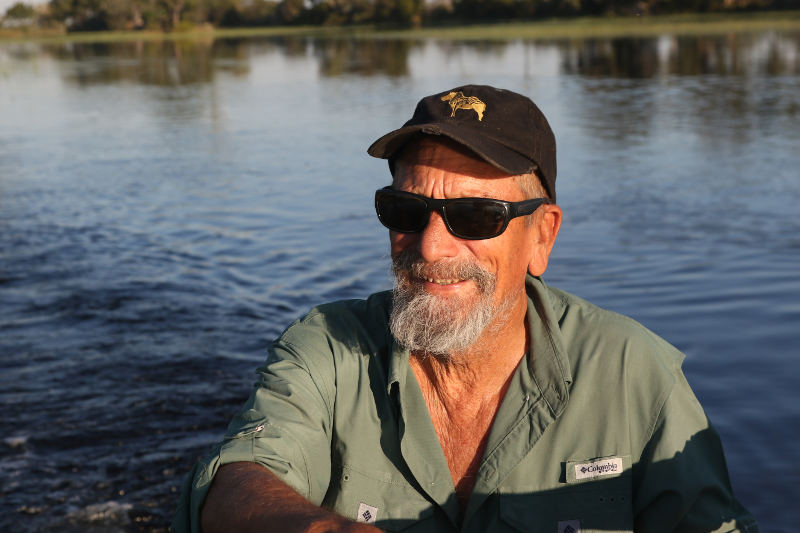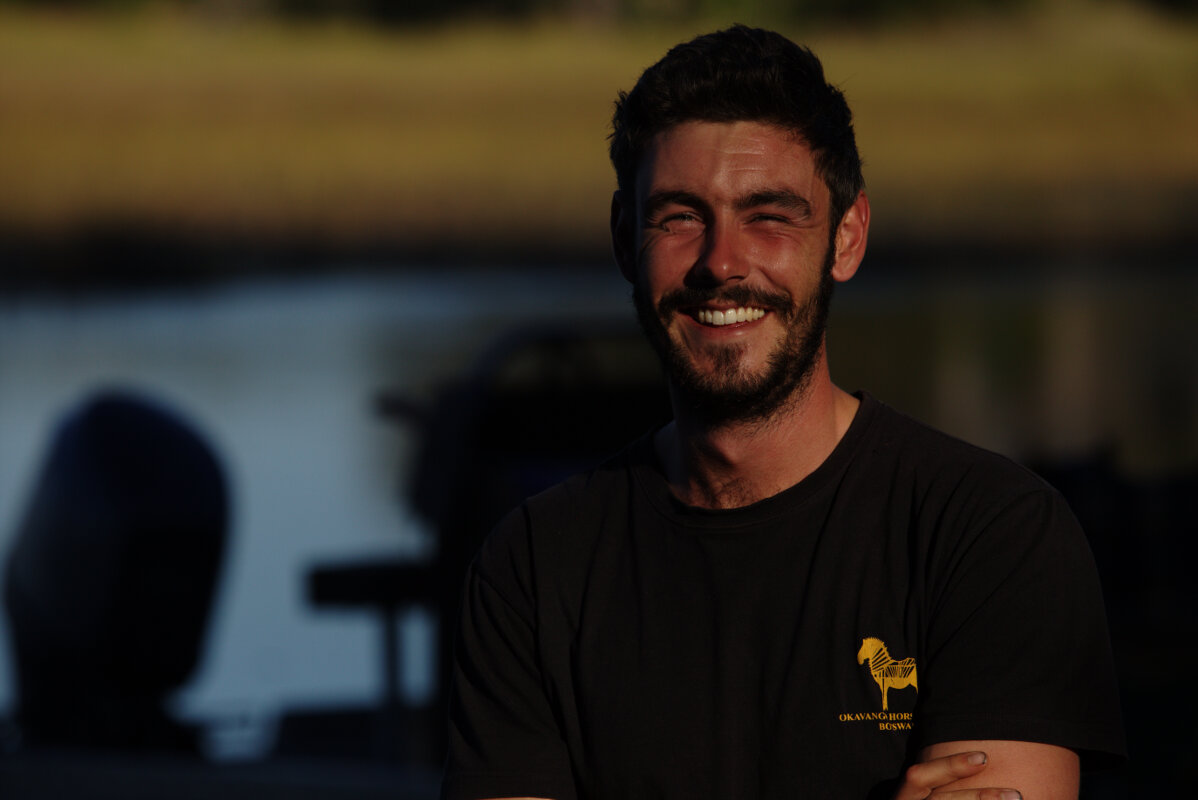 Duncan
CAMP MANAGER
Born in the United Kingdom, Duncan joined Okavango Horse Safaris as Camp manager in 2015 after falling in love with the Delta whilst visiting as a guest. Having grown up on the hunting field and with a Military career behind him Duncan runs the day to day logistics of Kujwana and Mokolowane camp. Whenever possible he loves nothing more than exploring the Delta by horse back or cruzing the river systems by powerboat.
Katie
RESERVATIONS MANAGER
Born in Dorset, UK, Katie worked for a luxury travel company before joining the OHS team in 2016. Often the first person guests will have contact with she will make sure that your booking with us and travel into camp runs seamlessly. A keen rider Katie works on bringing on our young horses ready for guest use. She will often be found backing up guest rides and will make sure you are warmly welcomed into the OHS family during your stay.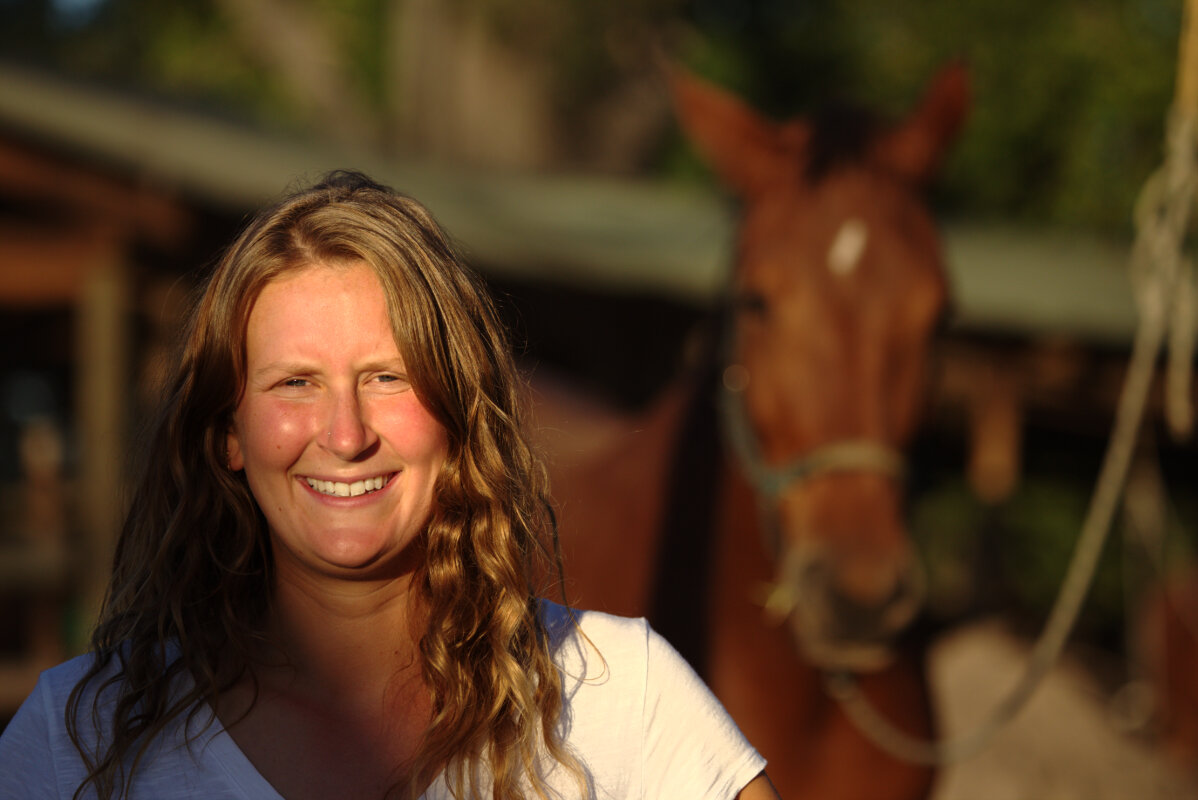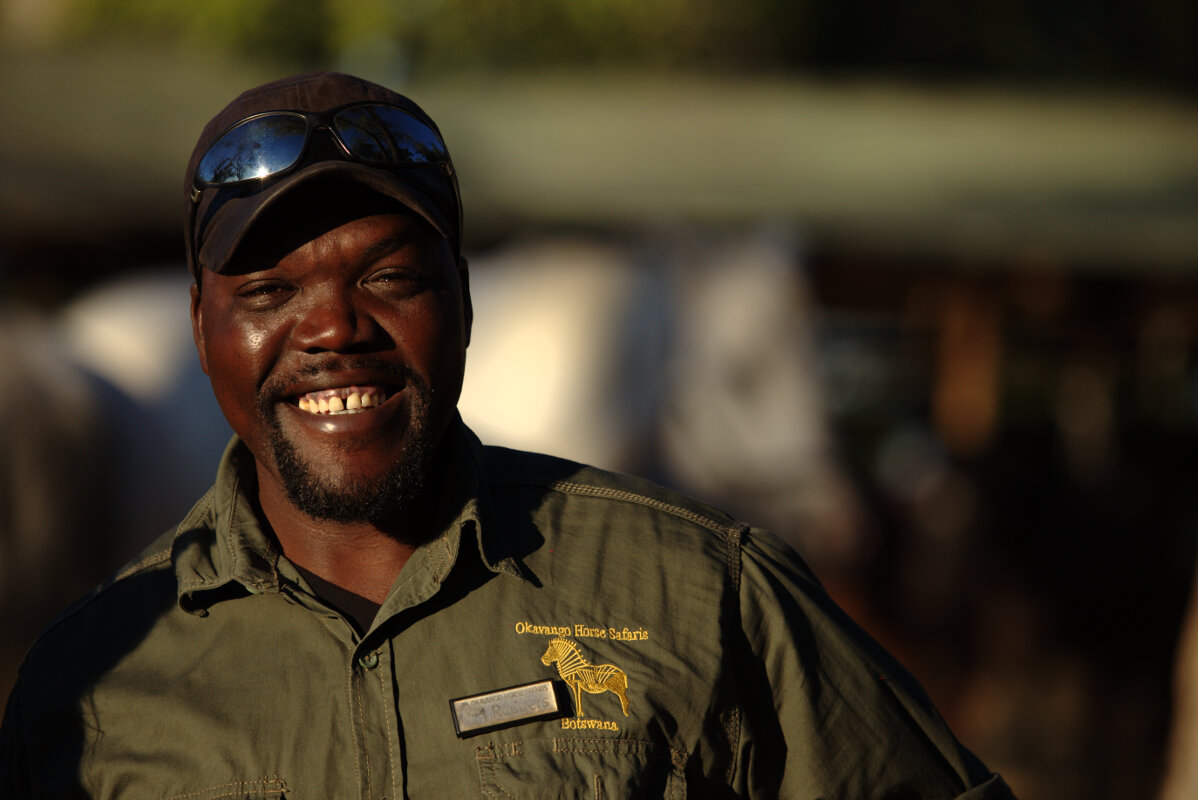 Rodgers
LEAD GUIDE
Born in Etsa 13 in the North of the Delta. Rodgers joined OHS in 1993 as a groom. In 2006 Rodgers qualified as a guide and since then has worked his way up to being our Lead Safari guide. A passionate and highly knowledgeable guide, Rodgers will lead you through the flooded grass plains and small islands with an ease and grace difficult to replicate. He takes great pleasure in regaling guests with stories from the past and is as comfortable guiding by Mokoro as he is in a vehicle or by foot. But happiest of course, when leading on his favourite horse Bingtang.
---
Person/Percy
ASSISTANT MANAGER
Born in Shakawe in the North of the Delta. Person joined Barney and PJ in 1988 at Nxamaseri Lodge. He has been an integral part of the OHS team, with his love of the iron horse helping all camp movements; picnics and transfers go without a hitch. He has a great sense of humour and is loved by all guests; OHS would not be the same without this cheerful character. "Born up a tree".
---
Koshunda
HOUSEHOLD & CATERING MANAGER.
Working for OHS since 1992, Koshunda is now in charge of all household and catering matters within camp. Her ability to run the kitchen seamlessly while maintaining a smile and good humour are a credit to her. She now has a team of 9 working with her and is invaluable in the day to day running of camp and all of the logistics involved with camp moves, stocks and ordering. She is also responsible for staff training.
---
OB
MAINTENANCE MANAGER
OB has been working for OHS since 2004 and can proudly say that he has built most of our two camps with his own hands. An incredibly talented individual there is little in regards to maintaining a camp that OB does not know about. Whilst living in camp with his wife, Evelyn, he works tirelessly to make sure that everything works perfectly during your stay. No small feet when living in the middle of the Okavango Delta! A key part of our team OB is greatly respected by both his peers and the management team and a key member of the OHS family.
---